Sixth Form – with a difference
At Abingdon, we believe equally in the importance of two things:
Your academic interests and achievement

Your broader education and preparing you for life beyond school
Benefitting from superb facilities in our new Sixth Form Centre, the sixth form has a university feel to it with an excellent relationship between boys and teachers and a dynamic approach to the curriculum. We thought you might want to hear from one of our current sixth formers about sixth form life at Abingdon – the inside story!
Academic
We offer a wide range of diverse subjects to study at A Level; there are usually around 25 to choose from. We also do everything we can to make sure you can choose the combination of subjects that you want to. As far as is possible we will adapt the school timetable to fit in with what you want to study.
We encourage students to take on the Extended Project Qualification (EPQ) to help them develop university research skills and either deepen academic knowledge or perhaps pursue quite different interests. The topic is entirely the student's choice.
The academic curriculum is complemented by a varied enrichment programme including lectures, discussion groups and practical workshops, plus wide-ranging trips, tours and expeditions in the UK and abroad.
As part of our commitment to achieving the best outcome in both of these areas, we have a specialist team to advise our sixth formers. The specialist team covers UCAS and further education, career guidance and academic support.
Watch the subject overview videos
Extra-curricular – the Other Half
Students are encouraged to take up leadership opportunities, both within school and through activities such as the Duke of Edinburgh's Award Scheme and CCF.
Those with an interest in drama can take part in major Senior School productions, or develop animation, film and documentary skills through our renowned Film Unit. Musicians have numerous orchestras, ensembles, choirs and bands to choose from.
Sport plays a big part in sixth form life, whether it's a mixed year group team playing a competitive fixture list against some of the best players in the country, or the iconic football 5th XI. We also have a wide range of other more recreational sports and activities, such as climbing and the well-equipped gym.
Thoughts from our sixth formers
Further information:
View the sixth form prospectus online
download the PDF sixth form prospectus
After Abingdon
We have a dedicated team of specialists to assist with all university applications and the majority of students are offered places at their first or second choice of university, mostly Russell Group institutions, with 10-15% receiving offers from Oxford and Cambridge each year. The range of subjects boys study reflects the diverse nature of our Sixth Form and the boys within it.
The School is able to support overseas applications (mostly from the USA) and, in recent years, up to five students per year have taken up this option.
We have specialist career advisors and a wide range of initiatives to help you decide what the next few years will involve, whether it is a gap year or even a move straight into employment.
Abingdon has a thriving alumni association (the OA Club) which works closely with the Sixth Form providing advice and networking opportunities in a range of careers, as well as funding for travel and workplace internships.
Our sixth formers are encouraged to take on responsibility, to think for themselves and to develop as independent learners in preparation for moving on. We appreciate that this doesn't happen overnight, and some boys take longer than others, so we manage the process, giving increased responsibility and freedom to students as they earn it through their lower sixth year.
Upper Master
Nick O'Doherty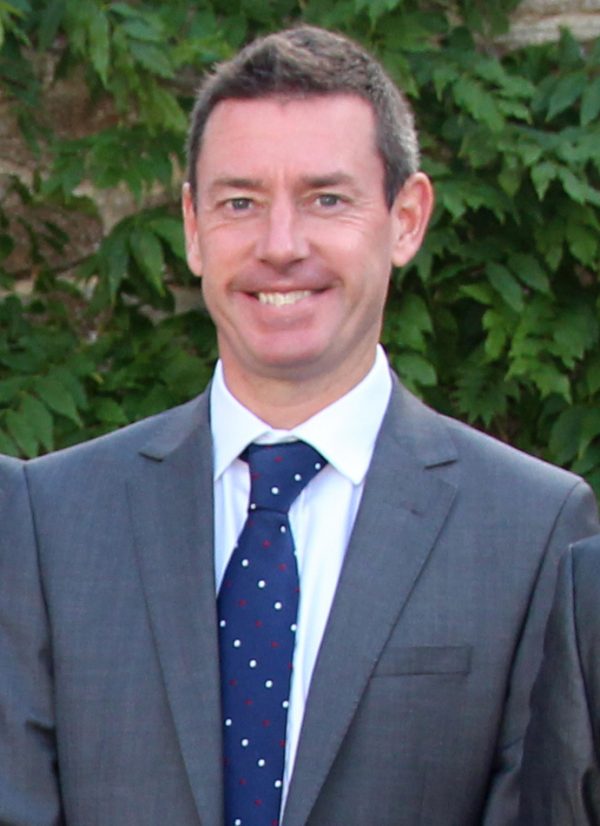 Having studied Geography at Bristol and spent two summers in the USA working as a soccer coach, Nick completed his PGCE at Nottingham in 1997. He joined Abingdon in 2005 after eight years at St Bartholomew's in Newbury, with four as housemaster. Following six years as a day housemaster, he was appointed Upper Master in 2013. Nick's passion is sport; first football and more recently distance running. He currently coaches both of these sports at Abingdon, and has also coached rugby and cricket. Because Geography Is Everywhere #GIE, he can also be found investigating corrie formation whilst skiing or coral reefs as a PADI qualified diver.
Mr O'Doherty can be contacted by emailing [email protected].