The House – A Place to Be
We recognise that moving to senior school or sixth form is exciting but can also be a daunting prospect for many boys so we have a very successful house system that gives boys a place to belong within the school.
The House is both a physical entity as well as a group of pupils from a range of years. The houserooms are bespoke spaces where the boys can go for downtime with their friends, relax in at break, over lunchtime or after school, and provide somewhere where they can socialise or play pool, table tennis or work. We have designed the houserooms to be bright, modern and spacious where boys want to spend time, and as importantly to provide opportunities for peer mentoring.
The House system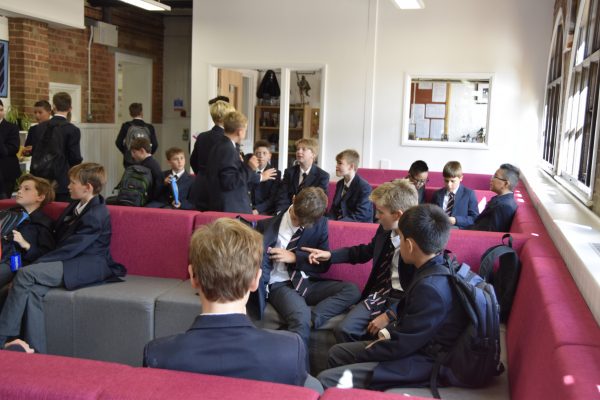 Boys who join us in the First Year, at age 11, join the Lower School under the care of the Lower School Housemaster. Their houseroom has recently been completely refurbished and has areas for games, socialising and quiet relaxation.
Boys joining us in the Third Year, at age 13, and when joining the Sixth Form, join one of nine houses: three houses cater for a mixture of boarders and dayboys and there is a further six dayboy houses. Each house is run by a housemaster who works closely with a team of tutors to safeguard and promote the welfare of boys in the house.
The housemasters stand "in loco parentis" to the boys in their house, while they are on school premises – and they will try to help them outside the school as well, with the co-operation of parents.
The housemasters are assisted by teams of tutors, who look after tutor groups within the houses.
Tutors
At the beginning of the year, the tutor will check that timetables are in order, and, where necessary, will advise on courses and options. Besides overseeing a boy's wellbeing, the tutor will also monitor his academic progress, and will write a general academic summary when school reports are issued.
All tutors see their tutees for a brief period every day. Tutor time for each boy amounts to at least one hour a week, in which tutor groups discuss topics such as choices, progress, current affairs and personal and social education. We regard this time as a crucial part of a boy's educational experience at Abingdon.
Houses