Welcome to boarding at Abingdon.
Boarding has been at the very heart of Abingdon since our inception and today, full and weekly boarding is available to students from the third year at the age of 13.
Our boarders belong to a warm and caring community where they are valued as individuals and play an important role in both House and School life. Our enhanced activities programme ensures that the talents, skills and character of each of our boarders is nurtured and appreciated so that they are able to develop into confident and independent young people.
Now is a particularly exciting time to join Abingdon's vibrant boarding community as work is underway on the renovation and extension of our boarding facilities. Opening in September 2023, the new boarding accommodation will provide cheerful and practical communal House areas including house rooms, extended study room facilities and kitchenettes. A significant change will see single bedrooms for all Sixth Formers, allowing students to really personalise their space and provide a true home from home experience. The development has been brought to life in the specially commissioned film below, which I invite you to watch.
Further information on boarding at Abingdon can be found below or you can contact us to find out more.
We hope to welcome you soon.
Matthew Kendry, Head of Boarding
Download Boarding Handbook PDF
To find out more about the boarding development project, click here.
Boarding Houses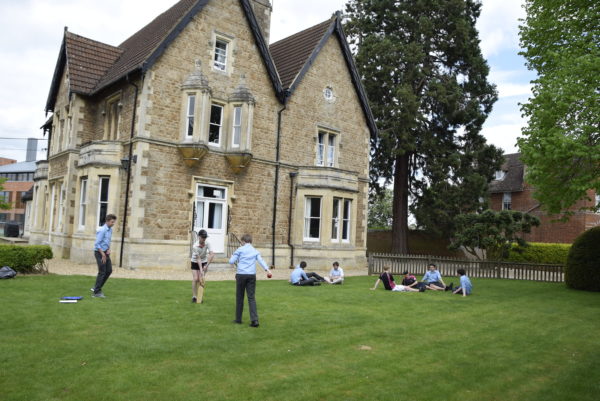 Abingdon has both day houses and three boarding houses with dayboys as an integral part of them. Boys join at 13 and remain attached to the house, throughout their time at the School. The boarding houses comprise a housemaster and his family, an assistant housemaster, who is usually resident, a matron and a team of tutors. All boarding tutors live close by and get to know the boys socially through evening and weekend duties. Boys are members of a tutor group, overseen by one of the tutors attached to the house. These tutors are the first point of contact for parents, although, of course, the housemasters are available too.
For further information or to arrange a visit please contact the Director of Admissions.
Listen to three of our students discussing boarding life at Abingdon:
"Boarders leave the school very well prepared for the next stage of their lives, with strong moral values, excellent inter-personal skills and the ambition to contribute positively to society."

ISI Inspection