Although our school benefits from long traditions of scholarship and learning, we also embrace innovation and fresh thinking. The pupils here are remarkable young people with exciting futures.
We encourage our young people to think for themselves, to have confidence in their ability and to develop a spirit of independence. We provide a safe and caring environment in which each individual is known and valued and can mature at their own pace.
Our collective lives are shaped by a culture of challenge and enterprise, where pupils are encouraged to embrace their aspirations and to make the most of their talents and abilities. Abingdon's success is rooted in its enthusiastic and expert staff who are wholly committed to passing on a love of their subject.
Academic standards are very high but a commitment to pupils' wider personal development is a touchstone of our approach to education. Indeed, Abingdon is renowned for the Other Half, the vast array of extra-curricular activities which make up an important part of every day at our school.
We take great care to make sure pupils feel they belong. Our House system and small tutor groups ensure they build relationships with staff and peers that are close and supported. Indeed, the culture of the school is one of consideration and kindness.
Although educating young people is a great responsibility that we take very seriously, we never forget that a school should also be a place of laughter and fun and we encourage pupils to maintain a healthy sense of perspective, so when they leave us they do as as open minded, confident young adults.
"Abingdon's success is rooted in its enthusiastic and expert staff who are wholly committed to passing on a love of their subject."

Michael Windsor, Head
I hope that you enjoy learning more about Abingdon from the website but nothing can replace the experience of seeing the School with your own eyes and getting a feel for the very special atmosphere here, so I hope too that we will be able to welcome you here soon.
About Michael Windsor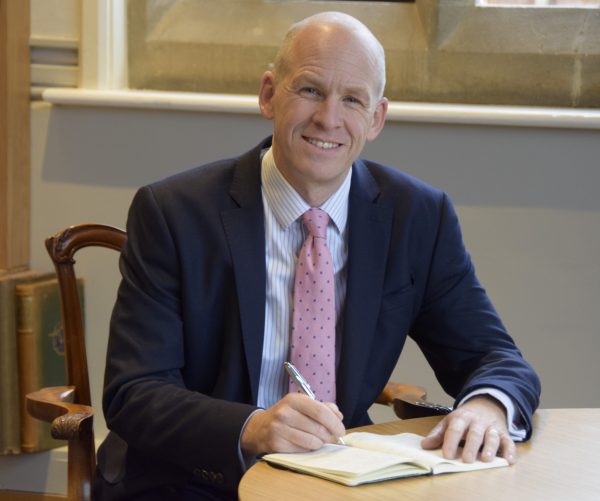 Michael Windsor, Head of Abingdon since September 2016, was born in Bristol. He attended Bristol Cathedral School, where he was a chorister, before going to Durham University where he achieved a First in German with French. After university he worked briefly in publishing before leaving for Italy where he taught English as a Foreign Language at the British School, Bologna. Upon his return to the UK, Mike took a PGCE at the Institute of Education in London. He also holds an MA in Modern German Studies from Birkbeck College, University of London.
Mike taught French, German and Italian at King's College School, Wimbledon, for seven years, where he later held the post of Director of the International Baccalaureate, and then worked as Deputy Head of the Royal Grammar School in Guildford for five years. He was appointed Headmaster of Reading Blue Coat School in 2008. Mike is an inspector for ISI and governor of a local prep school.
The opportunity to become involved in wider school life particularly attracted him to teaching, and earlier in his career he coached rugby, hockey and athletics, served as an officer in the Royal Navy Section of the Combined Cadet Force and led expeditions to Ecuador, Morocco and Pakistan.
Mike is married to Shanti, who works at Reading University, and they have two daughters, Amelia and Bea. He loves playing and watching sport and is a long-standing (and long-suffering) supporter of Bristol Rovers and Bristol Rugby Club. He is also a keen musician, playing the double bass in classical and jazz ensembles.