Here is a detailed map of the Abingdon School campus.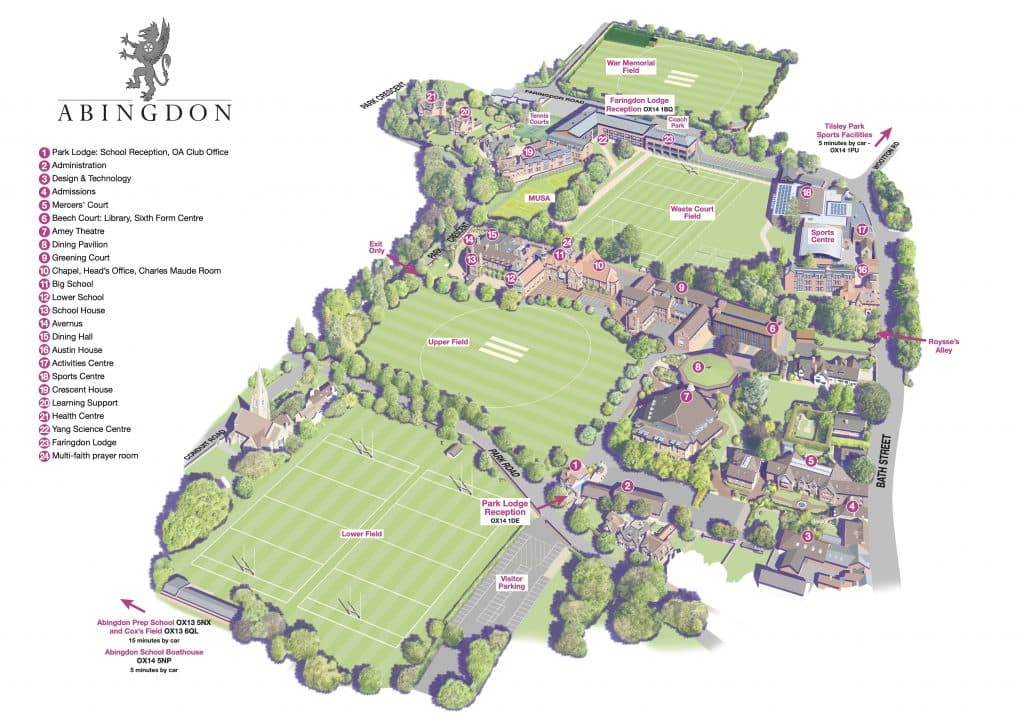 The historic market town of Abingdon, is just six miles from Oxford but with a distinct character and community of its own. Situated on the banks of the Thames, it has a thriving town centre with a wide range of shops and restaurants, and it is surrounded by leafy suburbs. Abingdon benefits from excellent transport links to Oxford, London and beyond.
Abingdon is more than just a location, it is a close community in which our students have the opportunity to connect with people who live in the town. As part of our Community Service programme, students are able to visit the local hospital and residential homes, and to volunteer at the town's primary schools and charity shops.
Through our Partnerships programme, we have close links with a wide network of schools in the local area, particularly the neighbouring girls school, St Helen and St Katharine with which we share some joint lessons in the Sixth Form as well as close collaboration with music and drama.
Abingdon is a place of outstanding education where our students interact and collaborate with peers from across the town. It is a world-renowned centre for scientific excellence with many leading scientific companies and organisations in the local area along with the annual ATOM Science Festival.
The School is situated in a designated conservation area, with an abundance of green, open spaces surrounding it. Visit us to see the School and our vibrant town or take a virtual tour of the campus.