Abingdon School's Developing Leadership Programme
Whilst there are many obvious opportunities for some students to become leaders at Abingdon School, we believe that all pupils should have the opportunity to take the lead by showing initiative and by being supported to suggest and develop their own ideas and activities. Examples can include setting up new clubs or societies to reflect their own interests or simply organising a card for a friend in need of support.
If students need advice on how to set up an initiative or who they should talk to first, they can find this on the School's Firefly intranet page on Leadership Opportunities. They can also contact the Developing Leadership Coordinator Mr Jeremy Thomas via [email protected].
Students follow ASDAN's Leadership Short Course, find out more here.
A leader is best when people barely know he exists, when his work is done, his aim fulfilled, they will say: we did it ourselves.
Lao Tzu, Chinese Philosopher, 6th-4th Century BCE
Taking the Lead Examples:
Our gifted principal oboist in 1st Orchestra came to see me to say he couldn't play because he had a mouth ulcer and a cough. So I thought I could play in his stead and asked him to conduct the rehearsal, which he agreed to do. It was an excellent opportunity for him to step up and show leadership.
Mr Stinton, Director of Music
Two upper sixth boys decided that they wanted to resurrect the School's economics magazine (Griffenomics) and with very little teacher input they have put together an excellent first issue. They wrote for it, edited it and managed a team of other pupils who contributed.
Mr Hepworth, Head of Economics
In maths we have various mentoring schemes all run through partnerships or as Royal Institution masterclasses. Boys train as mentors and then help younger pupils from Abingdon and other schools to improve and enjoy their maths.
Mrs Coull, Head of Maths
I organised a whip round on our bus at Christmas time to buy a present for our regular driver.
A sixth former 
Advice on Taking the Lead from Abingdon pupils:
"Do it wherever and whenever you can. Don't wait to be led, take the lead!"
"Being a mentor and/or a house prefect are great ways to lead without committing your entire life to them (like the school prefects)."
"Science Partnership is a brilliant way to get involved in leadership and organisation and Saturday Science Clubs are convenient to get to, not time-consuming, and very rewarding (both in terms of the experience itself and for a UCAS form)!"
"If you are worried about being judged then don't, just give it a go because you might love it and people will turn out to respect you."
"I think it is important to stress the importance of more minor leadership roles and how these are necessary for various things, including in academic work." 
Leading the Way
Freddie Nicholson - Abingdon Science Partnership
What new initiatives have you led or made significant contributions to at Abingdon?
One of the main initiatives I have made a significant contribution to is Primary Science Club. I first became involved three years ago when OA Colm Lambert coordinated the effort to start up a student run science class for local schools. Since starting small with 5 members the club grew hugely allowing to run sessions week after week. I have been responsible as a leader since the start organising each week's activities. Unfortunately we are currently unable to run our sessions in person but we are still producing resources online on our website.
I also took part in the ATLAScraft project, a huge project in collaboration with CERN, universities and local schools where we built the ATLAS detector in Minecraft. It was rewarding to see the project as a whole when it was released by CERN and has been used within our partnership activities ever since. I contributed to meetings with other schools and video conferences with scientists at CERN.
Aside from Partnership activities, I have taken part in many team competitions such as the Blott Matthews engineering competition where I had to coordinate a project to tight deadlines. They are never easy but the results make it all worth it.
What have you gained from leading these initiatives?
I have learnt many valuable skills during leadership of these activities. One of the key skills I have learnt is time management, when you have several projects all taking place at the same time with multiple people needing to get tasks done it is critical I make sure I have full awareness of who is doing what! It can be disastrous if we end up with a session which is inadequately planned, with a lack of structure and not enough content. Spreadsheets often come to save my day alongside our ever growing shared drive filled with resources that we can reuse if we are struggling for time.
Additionally my communication skills have also become more effective over time as I have slowly grown to know what works and what doesn't! This continues over Zoom which is also a slightly different experience to being in person.
How has Abingdon School encouraged and supported you to make them happen?
Abingdon has so many opportunities for leadership in so many areas within the Other Half. We are often receiving emails about new opportunities and the expansive Other Half list is ever growing with all kinds of unique activities.
There are also opportunities in an academic sense as well such as the Ritangle Maths contest or the CERN Beamline 4 Schools Physics competition.
What advice would you give to other boys who want to take the lead with a new initiative or idea at Abingdon?
I find that sometimes just going and taking on an activity without really knowing the full picture has been the most rewarding for me. I learn new skills and work in areas that I would not normally picture myself in, an example that comes to mind would be the Royal Society Badger Monitoring project where we helped setup camera traps around local schools!
Which initiative that you have led are you most proud of and why?
I think Primary Science Club was the clear example as it has been a huge success. Pre pandemic we were getting lots of visitors that were all fascinated by our experiments and constantly asking questions to learn more. We have also seen the impact from running these sessions with evaluation forms and teachers coming back and telling us how much our sessions are enjoyed by the students.
Mike MacLennan - Equality Committee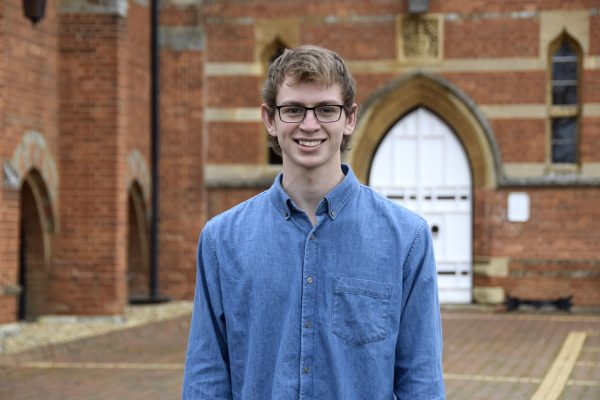 What new initiatives have you led or made significant contributions to at Abingdon?
The newly formed Equality Committee is a new initiative I have helped set-up and lead. After some lobbying from current and former students, the School gave its support to its formation and with the help of students and staff we have formed a committee with the mission to tackle inequality, discrimination and prejudice through education and strategies to make a palpable change at school.
Over the last two terms we have taught others through school assemblies and article writing in school magazines; reviewing the PSHCE curriculum and offering proposals; and through stimulating discussions through the provision of tutor resources.
What have you gained from leading this/these initiatives?
In any leadership position you need to make effective use of numerous attributes. I was thrown into the deep end where I quickly discovered the importance of organisation and communication between members across the group. Additionally I have had to learn the importance of planning prior to any meetings which has helped with my organisation and overall preparedness for other tasks.
How has Abingdon School encouraged and supported you to make them happen?
Teachers have got involved, shared resources and the school as a whole has offered opportunities to forward our mission through such things as school assemblies. It has also been great working with Other Half groups such as different school magazines to offer an outlet for our vision.
What advice would you give to others who want to take the lead with a new initiative or idea at Abingdon?
Delegate tasks to capable people because you cannot do everything by yourself! If you want to make a genuine difference and lead effectively, then coordinate a group of people equipped to take on and manage projects themselves. For the Equality Committee, this has been in the setting up of focus groups to tackle specific tasks and assigning competent students to take the initiative on each one.
What makes you most proud of this initiative and why?
A collective group of students and staff members have worked collaboratively to forward a shared vision of offsetting inequality and injustice through education and making real change in the working school life at Abingdon – that's wholesome.