Welcome to Abingdon School
We are delighted that you are considering an Abingdon education for your son.
We are an academically selective school, and our impressive results speak for themselves, but we also place great emphasis on the extra-curricular. Abingdon students are encouraged to seize opportunities, to understand their responsibilities to the wider community, and to celebrate diversity in everything they do. We believe this holistic approach to education prepares young people today for their future in tomorrow's world.
Each year, over 200 students join us from more than 100 different schools across the state and independent sectors and from overseas. There is no typical Abingdon student and we take into consideration the character, interests and talents of every boy who applies, welcoming applications from all backgrounds, faiths and nationalities.
Our newly refurbished boarding facilities open in autumn 2023 and will feature extended study room facilities, social hubs and single rooms for our Sixth Form boarders. These new facilities promise to enhance the boarding experience for our students, giving them time and space for study and recreation as well as making them feel at home.
Overseas students with the appropriate visa status may join us as day pupils from the age of 11.
The best way to experience all that Abingdon can offer is to come and visit. We hope to welcome you soon.
For information on how we support students with English Language needs, please visit our EAL page; and for those with learning differences, please visit our Learning Support page.
of students offered their firm choice of university destination
Wendy Meredith, Overseas Admissions Assistant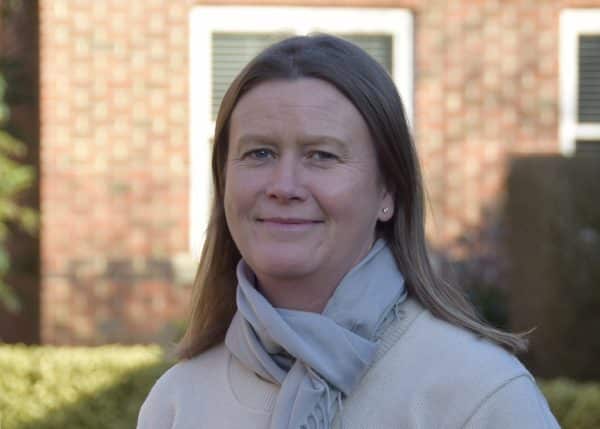 Having recently relocated from overseas to the UK myself, I completely understand the anxieties, complexities and challenges facing international parents whilst they search for the right senior school for their son.
My role is dedicated to supporting our international families, helping to familiarise them with the entire admissions process – from registration and assessments, to visa guidance and our student induction programme.
You can register directly via our website.
If you have any queries at all, I am here to help and can be contacted by email or by telephone on +44 (0)1235 849041.
WENDY MEREDITH
Register your son
All parents who want their son to be considered for entry to Abingdon must complete an online registration form and make an overseas registration fee payment. Once the registration has been received our admissions department will acknowledge the application and provide you with details of the entrance examination.
Our recommended registration deadlines are:
Year Group
Recommended Registration Deadline
First Year
1 October of the year before entry
(ie UK National Curriculum Year 6)
Third Year
1 May two years before entry
(ie. UK National Curriculum Year 6)
Fourth Year
1 October of the year before entry
(ie. UK National Curriculum Year 9)
Sixth Form
1 October of the year before entry
(ie. UK National Curriculum Year 11)
Late applications may be considered, subject to availability of places. Please contact the Admissions team for advice.
Assessment Process
The assessment process is the same as for UK based students. Please see the respective year group pages. In addition to the specific year-group assessments, students whose first language is not English may also be required to take an additional English test.
If a candidate is unable to travel to the UK for the main assessment day, then overseas students may sit their tests at the British Council or one of our authorised assessment centres. Please contact the Admissions office for advice.
First Year (Year 7) Entry
The process is outlined on our First Year Admissions page. Candidates are advised to take their assessments at the same time as our UK candidates, in the January of UK National Curriculum Year 6.
Please note we cannot accept students into the First Year on a Child Student visa. We can only accept applications for day places from non-UK nationals who are entitled to study in the UK under their parent's visa.
Third Year (Year 9) Entry
The process is outlined on our Third Year Admissions page. Candidates are advised to take their assessments at the same time as our UK candidates, in the October of UK National Curriculum Year 7. For late candidates, we hold a number of testing windows throughout the year, whilst places are still available. Please contact us for information about the next test window.
Fourth Year (Year 10 Entry)
Each year we take a small number of new students into the Fourth Year. Please contact us for further information and for details about our next test dates.
Sixth Form Entry
The process is outlined on our Sixth Form Admissions page. Overseas candidates are encouraged to take the assessments in November of UK National Curriculum Year 11.
Scholarships
Certain scholarships are available to overseas students. The admissions team will be happy to advise you further.
Educational Agents
We welcome direct applications from the families of overseas students, and using an educational agent does not increase your chances of gaining admission to Abingdon.
However, if families wish to use an agent, please be aware that Abingdon works with a carefully selected and vetted group of agents, who understand our admissions process in detail. If you would like further information about the agents we work with, please contact [email protected].
Visas
Any student who is a citizen of a country outside the UK and Ireland, and who wishes to study in the UK for a period of more than six months, requires a visa to study in the UK. This includes EEA students who arrived in the UK after 1 January 2021.
Abingdon School has a licence to sponsor Child Student Visa students. Where a student is sponsored to obtain a Child Student Visa, the student must remain a full boarder for the duration of their time at Abingdon. For this reason, we are only able to sponsor students from the Third Year upwards as we do not have boarding facilities in the First Year or at our Prep School.
Abingdon uses an immigration lawyer who manages the visa process on the School's behalf, and will also provide support to any parents who require a Child Student Visa. There is a non-refundable administrative charge to cover the additional work required to ensure the smooth running of the visa process.
Where a student is not sponsored, Abingdon School will request evidence of the student's right to study in the UK before making an offer of a place. This could be by virtue of a parent's visa or under the EU settlement scheme.
Further information may be obtained from the UK Government Visa and Immigration department.
Guardians
Every overseas pupil who is on a Child Student Visa sponsored by Abingdon School must have a guardian appointed by his parents as a condition of entry into the School. It is very important for the welfare of the pupil that the guardian is actively interested in the pupil's education and welfare and lives close enough for the pupil to visit during holidays or if needed during extraordinary circumstances such as school closures.
You can find a list of accredited guardians on the AEGIS (the Association for the Education and Guardianship of International Students) or BSA websites.
The provision of guardianship is monitored by the boarding housemasters as well as by the parents who employ the guardian. In certain circumstances a housemaster may call into question the suitability of a particular guardian and would hope that the parents would take the necessary action in the best interests of his or her child. The School will under no circumstances recommend or arrange guardianship on behalf of the parents. Responsibility for the welfare of pupils while in the care of their guardians, and while travelling to and from them, rests solely with the parents and not with the School.
Relocating or Returning to the UK
We recognise that for some British nationals who are returning to the UK from a period overseas, there are often concerns that their son's education may have been different from the UK system. We have experience of this and we offer our full support throughout the process.
Candidates can either attend our standard assessment days in the UK, or families can arrange for exams to be taken at the British Council Offices or at one of our approved assessment centres. We encourage families to register their interest in a place by our recommended deadlines, but understand that sometimes plans or events will not make this possible. In these cases, we are happy to accept late registrations while we have places available.
Please contact the Admissions office to discuss your situation and they will be happy to help you.