16 October 2020
The fourth year artists have just begun their GCSE course, and have swiftly adapted to the novelties of this new academic year. Due to the implication of coronavirus the exam board has restructured the way students submit their work. Digital sketchbooks are the new format and have introduced the challenge of promoting mediums that are more suited to online working. This has forced the year group out of their comfort zone to produce some brilliant artwork, with some boys taking the opportunity to improve their photography skills and take stunning pictures with the subject matter inspired by the work of artist Sarah Graham.
Above photos by Oliver Bury
Sarah Graham is a photorealistic artist who painted toys and sweets in oils. She is a famed skilful UK artist that has had her work commissioned by popular bands such as the Kaiser Chiefs who famously included a stick of rock on their album cover.
Across the Fourth Year, the theme of confectionery has stayed constant, with other students choosing to work in more traditional mediums of oil pastels and pencils to create sustained pieces in bold colours for their GCSE coursework. It is forcing the students to really observe form and in detail. Abingdon students should achieve top grades for their observational work.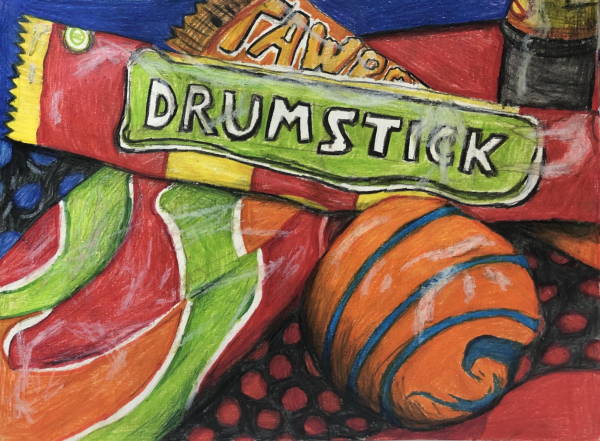 Photo by Tye Willis
Digital sketchbooks have allowed students to reflect on their work with more immediacy. They can look back and improve their artwork following teacher feedback. Online working on Google Slides has enabled a successful transition to the new normal of GCSE qualification. To rework or simply redraft a piece by the click of a button is very appealing to our boys. We hope you are equally impressed with the observational artwork displayed here.
Above is a collection of work by Alexander Lees. He has used brush pens, watercolours and coloured pencils.
Article written by Dominic Wood (Art Scholar) and Mr Williamson