Published 28 October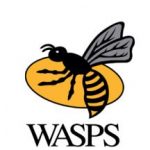 Our October half term Rugby Skills Camp took place this week, led by Premiership Rugby Club Wasps. Those taking part in the camp comprised of children who currently play or are aspiring to play at first-team level at their school or club. It was clear that everybody had lots of fun!
The high-quality coaching sessions were run by Wasps Community Head Coach, Dom Owen and Community Rugby Coaches, Julius Hunt and Steve Pahal and focused on technical and tactical skills.
Wasps 1st team players, Ali Crossdale and Dan Frost (pictured above) also attended the camp, taking part in a Q&A session along with hands-on technical and tactical pointers.
Throughout the 3-day camp, participants developed core skills such as catch and pass, tackle, breakdown, support, back play and set-piece play.
If your child would be interested in attending our next Rugby Skills Camp, please get in touch. Our 2022 dates (which includes February half term, the summer holidays and October half term) will be released in the New Year.