Let your child's confidence grow
Abingdon Swim School is an Amateur Swimming Association (ASA) registered Swimming School. We teach all four competitive strokes, within the framework of the National Plan for Teaching of Swimming (NPTS). Assessments are carried out in the final few weeks of term.
Our Mission
Abingdon Swim School aims to provide quality swimming lessons in a fun and safe environment, delivered by enthusiastic and passionate swim teachers.
Swim School breakdown
Saturday and Sunday morning lessons
ASA qualified teachers
Swim England registered Swim School
We follow the Swim England learn to swim pathway
Lessons are available for children aged 4 years and over
Lessons are 30 minutes long
Only £9.25 per lesson
We offer a 10% discount for the third sibling
Badges and certificates are available for purchase upon successful completion at the end of each term
Smaller classes, better results
Our swimming lessons focus on teaching skill development for beginners and improvers through to competent swimmers. Our class sizes are small with no more than 6 children in each class so that focus is always on each individual child's development.
Summer Term 2022
Summer Term Dates 2022: 
Saturday 23 April – Saturday 16 July (there will be no lessons on Saturday 4 June due to half term)
Sunday 24 April – Sunday 17 July (there will be no lessons on Sunday 5 June due to half term)
Cost: £111 for 12-weeks 
Please contact our Swim School Coordinator if you have any queries: Email: [email protected].
Swimming Intensives
Based at Abingdon School Sports Centre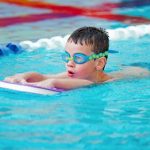 All children aged 4-11 years
Our five-day swim courses are aimed at speeding up children's swimming progress and development. These courses are ideal for boosting children's swimming skills and increase their confidence in and around the water – as well as being a fun and productive way of filling up holiday time!
Course fee: £50 per week
Session times: Between 1pm – 4pm
Available dates and times:
Monday 22 – Friday 26 August 2022
Private Swimming Lessons
Private Swimming Lessons are available at weekends. We have an expert team of teachers who can cater for ages 4+ and all abilities.
To find more information, please contact us:
Tel: 01235 849 062
Email: [email protected]
Public Swimming Sessions
Please be aware that we no longer offer public (pay-as-you-go) swimming sessions at Abingdon School Sports Centre. The swimming pool is only available for clubs or organisations to hire.