Download our app and connect with us anytime, anywhere.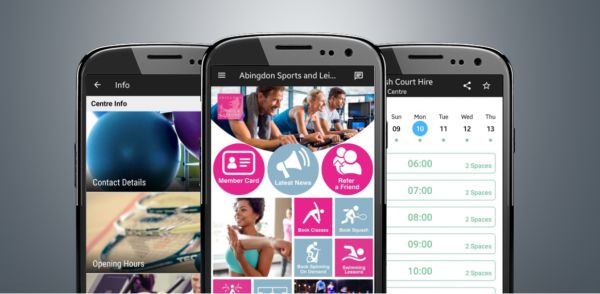 The Abingdon Sports and Leisure app is available to download free of charge on all Apple and Android devices.
Downloading our app is the most convenient way to make the most of our facilities and gives you the flexibility and freedom to book activities, stay updated and manage your schedule – all from the palm of your hand.
Receive up-to-date information, news, offers, and upcoming events
Instantly get notified about important centre updates directly to your phone
Quick and easy access to book your favourite fitness classes and other activities
Contactless entry to our gym, spinning and exercise classes
Real-time access to our timetables for exercise classes and other activities
Check activity availability, make a booking, amend a booking and cancel a booking – easily and conveniently
Connect with us instantaneously through Facebook, Twitter and Instagram
Before downloading the app, you need to create your account.
Before downloading the app, you will need to sign-up and create an account on our new system. This will allow you to book activities on a casual basis. In order to do this, please click here and 'sign up' as a Pay As You Go customer.
This will allow you to log in, edit your account and marketing preferences and book and manage your activities. You can then also use these details to log in to the app.
Please note, if you are already a paying member of the Abingdon Sports and Leisure Club, you will have received separate communication from us regarding setting up your membership account.
Our app is available to download by searching for Abingdon Sports and Leisure. For your convenience, you can scan the below QR code to download it instantly.