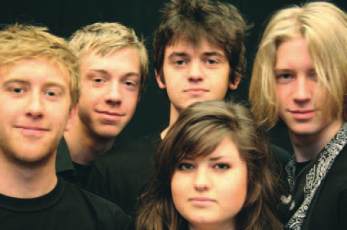 Tickets £6, £4 (concessions) £16 family
Summer Orchestral Concert
Tickets: £6, £4 (concessions), £16 family
Thames Vale Youth Orchestra Concert
7 pm: Sheldonian Theatre, Oxford
Tickets available at the door
An end-of-year gala concert
7 pm: Sheldonian Theatre, Oxford
Tickets: £8, £5 (concessions), £20 family
Lower School Gala Concert
Sponsored Ironman Triathlon for Moldova
3 – 5 pm: Amey Theatre Foyer
ASPA at the Cherwell Boathouse
NB This event is sold out
Wednesday 23, Thursday 24, Friday 25 May
A musico-dramatic feast, set in prohibition-era
Chicago and featuring a cast of 37 larger-than-life
Lower School performers playing gangsters with
splurge guns. What's not to like?
7 pm: Wednesday 23, Friday 25 May
The Loose Limbed Collective
An evening of comedy provided by and in
support of OAs who are forging careers in
professional comedy. Those currently confirmed
blues band featuring OAs Jonny Donahoe,
formerly Margree, OA 2001, and Paddy Gervers
troupe featuring Richard Soames OA 2005;
, stand up comedian, OA 2008;
, Andrew and Steve Dawson,
OAs 1995 and 1997, who write extensively for
TV, and including material for David Mitchell OA
featuring Ed Rowett OA 2005.
7.30 pm: Amey Theatre Foyer
Tickets and further details:
Monday 25, Tuesday 26 June
The Hound of the Baskervilles
The Peepolykus version of the Sherlock Holmes
story, described as "a barking spoof".
Middle School Drama Production
7 pm: Amey Theatre or Drama Studio
Tickets: price to be confirmed
The 24 members of the Film Unit, drawn from
3rd to U6th, present an evening of original
documentaries and animations. This year's docs
were shot in Bristol, Burma, Germany, a front
room in Kidlington and various tattoo parlours
in Oxford / London. Subjects include mental
handicap, immigration, body art, struggling
to play the piano and the Buddhist idea of
freedom. The animations are, as ever, a law unto
themselves, but fabulously colourful, inventive
and fun. Some of them are even shot in HD!
Admission free (with free interval refreshments)
Abingdon Dance Project Show
Boys and SHSK girls in 5th, 6th and U6th
perform dance and physical theatre work created
last term with a team of professional dancers and
actors led by Matthew Hawksworth (OA 2000).
A level and GCSE Art and Design Exhibition
6 pm: Amey Theatre Foyer and Art Department
Paddy Gervers and Fin Taylor (back right and 2nd from right),
who will be appearing on 16 June, seen here as part of FxP