This course is available to everyone
Based at Abingdon School (Greening Court)
Participants: Aged 8-12 years
Automatronix Tech meets creative craft on this fantastic course. Participants will look into the basics of building paper automata, hook it up to hobby motors, switchers and lights or drive them with servo motors and Micro:Bit.
Participants on the course will work on coupling gears to power the optical illusion spinner and create their own illusion patterns. On the third day of the course participants will undertake their own individual project, either using colourful pre-printed models or developing their own cardboard prototype. Curated by CanLabs' tutors, there is a brilliant new project to take part in every day.
At the end of the course, each participant will come home with a video clip of their completed projects to show off to family and friends.
10.00am – 4.00pm on each day
The cost of this 3-day camp is £150 per person.
All materials and equipment are provided.
Available dates:
This course is run in partnership with the Coding Guild.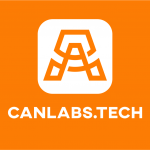 ---
---
To find out more information, please contact us:
Tel: 01235 849 062
Email: [email protected]