Covid-19 Secure Measures at the Amey Theatre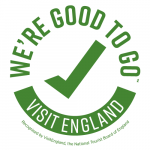 The Amey Theatre and Abingdon Sports and Leisure are delighted to be welcoming audiences back into our theatre for a short run of screened performances over the festive period. 
Please be assured that the safety of our audiences is of the utmost importance to us and we are following the safety and hygiene measures set out by the government and industry bodies in their guidance for performing arts and events. We have put in a number of new precautionary measures and procedures, so to our returning customers, your next visit may look a little different to previous ones.
We will be maintaining our own Track and Trace system to comply with guidance, however we strongly encourage you to download the official NHS Covid-19 App in advance of your visit and scan the QR code on entry.
Abingdon Sports and Leisure will be reviewing these measures regularly and they are liable to change following updates to guidance, please check back regularly for any updates. If you have any questions before your visit, please do not hesitate to contact us on 01235 849063 or boxoffice@abingdon.org.uk.
Booking tickets
All tickets will need to be purchased online or over the phone prior to arriving at the Amey Theatre. The Box Office will not be open for ticket sales at the time of the screening.

Online bookings will close 2 hours prior to the screening start time.

All tickets will be issued as e-tickets which the patron is required to show on arrival at the theatre.

As Oxfordshire is currently placed in Tier 2, please only purchase tickets for your household/support bubble. It is against the law to purchase tickets for those outside of your household/support bubble if you intend to sit with them.
Allocated and socially distanced seating
Due to the current restrictions, we have chosen to limit our capacity to a maximum of 105 (under 25% of the total capacity of the theatre – Government guidelines state that we are able to have attendance of up to 50% of the total capacity).

At time of booking, you will get to choose your seat. Please note that on the seating plan a large number of seats have been intentionally blocked off in order to maintain social distancing and in an attempt to allow each booking direct access to an aisle.

Please ensure you sit in your allocated seat.

The largest block of seats available is 6. If you wish to book for more than 6 (for example a larger household/support bubble) you will need to sit in separate groups.

Where possible,

please try to book a block of seats that is as close to the number in your party as possible (ie. when booking for 3 people, please pick an available block of 3 or 4 seats, rather than a block of 6)

.

When you book your seats, a 'social distance' bubble will form around your booking to ensure that no one else can book a seat adjacent to you. 

Abingdon Sports and Leisure reserve the right to move a booking in order to maintain social distancing if required. You will be notified if this is the case.
Staggered arrival times
To avoid congestion, we will be sending out staggered arrival times for bookings. We aim to send these out 24 hours before the event.

Please arrive at the allocated time otherwise we may not be able to seat you in time for the event.
Test and Trace
At the time of booking, we will collect contact information for the 'party leader'. This information will be destroyed 21 days after the event unless you have subscribed (or previously subscribed) to marketing emails.

This information will only be passed on to NHS Test and Trace if required, it will not be shared with any other parties.

There will also be an NHS Covid-19 App QR code displayed for you to scan. We strongly recommend you scan in as this helps trace and stop the spread of Covid-19
Queuing and social distancing in the theatre
A one way system has been created in the theatre in order to reduce the risk of face to face interaction and to maintain social distancing.

Please follow the floor stickers and signs.

Please note due to the nature of the building, some of the routes are not the most direct routes to access certain facilities (e.g. toilets). We understand that this may be frustrating, however it is necessary to help ensure your safety.

When you need to leave the auditorium, please move to the aisle closest to you and follow the one way system to exit the. Please do not cross over other households unless absolutely necessary.

Please try to keep 2m distance from other parties when walking through the building.

At the end of the screening, please remain seated until instructed to move by a member of the Theatre Staff
Toilets
Due to social distancing, the toilet capacity will be reduced. The maximum capacity of the toilets will be indicated by a sign on the door.

If queuing outside the toilets, please do so on the queuing floor stickers.

We encourage you to only use the toilet where absolutely necessary and to limit this to before or after a performance.
Refreshments
Theatres and cinemas are currently exempt from the at table/seat service for food and drink.

As Oxfordshire is in Tier 2, any food and drink purchased will need to be consumed whilst seated in the auditorium.

When booking your ticket, you are now able to pre-order from a selection of drinks which will be available to collect on your arrival.

We currently have under development an At-Seat-Ordering system which we hope to have available shortly. More information to follow.

Please note that as we are a licensed premises, we cannot allow any food or drink not purchased on site to be consumed in the theatre.
Face masks and hand sanitizers
It is a legal requirement for all patrons to wear a face covering whilst in the theatre, including when you are seated for the performance unless you are exempt under the reasons set out

here

.

You are allowed to remove the face covering to consume any food or drink purchased on the premises but it must be worn again as soon as you have finished.

Please note that, as per the guidance, a face shield or visor is not a replacement for a face covering.

There are multiple hand sanitizer stations placed throughout the theatre; we ask that you sanitize your hands on entry and as often as possible.
Enhanced cleaning measures
We have increased our cleaning operations and will be regularly sanitizing 'touch points' such as door handles, light switches and toilets throughout each event.

The theatre will be fully cleaned and sanitized between screenings.
Air circulation
The Amey Theatre's air circulation has been set to 100% fresh air (from outside). None of the air will be recirculated for the time being.
Performance cancellations
If we need to cancel a performance, you will be refunded the full ticket price. The transaction fee is non-refundable. Alternatively, we may offer to transfer your ticket to another performance.

If you are unable to attend due to illness, please contact the Box Office and we will do our best to assist you. Please see our Terms and Conditions for full details.
Helping keep each other safe
If you suspect you may have or develop any of the symptoms of Covid-19, we ask that you do not attend the screening. The symptoms are:

high temperature, 

new persistent cough, 

change in sense of taste or smell

If this is the case, please contact the Box Office and we will see if we can transfer your ticket.

If you begin to feel unwell during a screening, please contact one of the Theatre Staff and head home immediately.
References
Guidance and suggestions have been taken from the following sources: