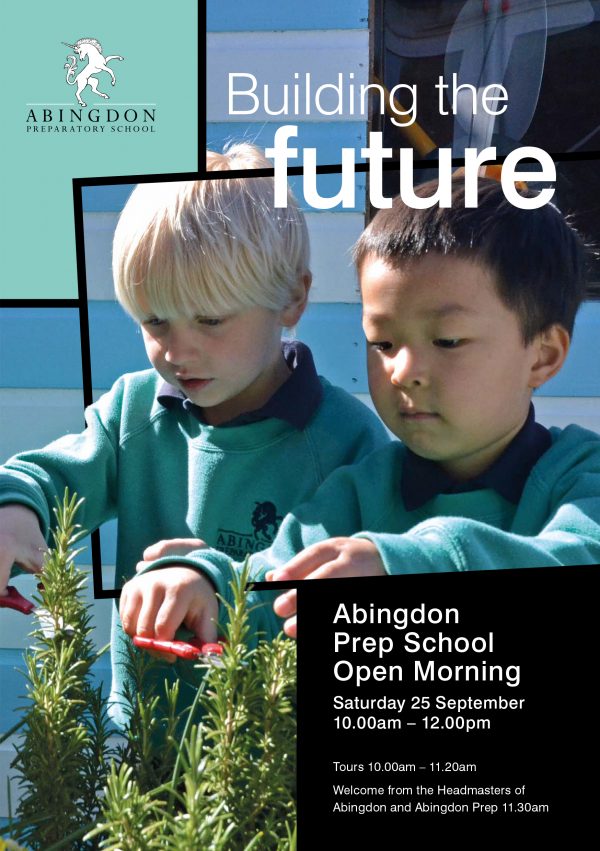 Our whole school open morning is on Saturday 25 September at 10am and you can register to come using the form below. If you would like more details about the Open Morning then click on read more below and take a look at the programme.
The open morning will give you a really good insight into all that goes on at Abingdon Prep. Our Headmaster, Craig Williams, will be talking about what makes Abingdon Prep different, the academic and Other Half opportunities and our pastoral care. Mike Windsor, Headmaster at Abingdon, will be explaining the partnership with the senior school, and will talk about the transfer process. There will be plenty of opportunity to ask questions and we will also take you on a tour of our facilities. The Admissions team will be on hand for queries about the entry process and you will be able to hear from our pupils about what life is really like at Abingdon Prep.
We are very happy to talk to you about Abingdon Prep and all that we offer. Alternatively, if you don't want to meet just yet but you want to stay in touch, complete the form below and we will send you information about news and events.
Where would you like to go next? You can: meet the Headmaster, learn more about Abingdon Prep, see our latest news, take a look at our Other Half, go on a virtual tour of the school.
Our Senior School, Abingdon, also offers online visit opportunities, to find out more, follow this link.
READ MORE
If you have any queries please email admissions.manager@abingdonprep.org.uk or call +44 (0)1865 392303. You can also take a virtual tour of the school here.
This information is recorded for admissions purposes only and will be held in line with the Admissions Privacy Notice available here: Data Protection Statement and Privacy Notices.